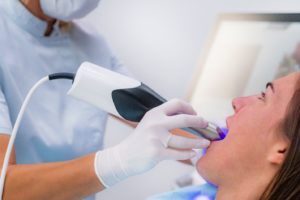 Dental impressions often play a big role in patient care. At a general dentist's office, they are used to create things like crowns, veneers, and clear aligners. At our specialty practice, where we focus on treating sleep apnea and TMJ disorder, they help us to design custom appliances for our patients. To make the process of capturing and using impressions as easy and efficient as possible, we have invested in a digital scanner. This blog post talks more about this remarkable tool.
Digital vs. Manual Impressions
Manual dental impressions involve the use of impression trays that are filled with a gooey material. Patients must bite down on the material and stay perfectly still while the goo hardens around their teeth. As you may have experienced, this process can be uncomfortable and messy. In some cases, multiple tries are necessary before an accurate impression is captured.
Digital impressions are different. Rather than employing trays and goo, our Meditlink i500 scanner uses a wand with two small, high-speed cameras. The cameras capture countless images of the teeth, and then smart software assembles those images into a highly accurate digital representation of the teeth.
How We Use Digital Impressions
Once we scan your teeth, it is easy for us to send the impression to one of the labs that we partner with. Once they receive the data, they use the impression, along with any relevant notes from Dr. Conditt, to craft a custom appliance. Whether your appliance is meant to relieve symptoms of TMJ disorder or facilitate uninterrupted breathing, you can expect it to fit perfectly and function optimally.
Benefits of Digital Impressions
While both digital and manual impressions are capable of producing high-quality custom appliances, digital impressions offer some distinct advantages:
Comfort. You won't have any icky goo in your mouth. Plus, unlike some other digital scanners, the Meditlink i500 usually does not require that the teeth be coated with powder.
Speed. Because our scanner is so accurate, you can expect us to capture an accurate, usable impression of your teeth very quickly.
Efficiency. Rather than having to ship a manual impression to a laboratory, we simply send a digital file. This can ensure that you get your appliance as quickly as possible. Plus, the accuracy of digital scans can reduce the need for back-and-forth communication with the lab.
Eco-friendly. By eliminating the use of manual impression materials, we are able to lessen our environmental impact.
Digital impressions are an important part of the treatment process for many sleep apnea and TMJ disorder patients. Give us a call to learn more about this useful technology.
About Our Practice
Dr. Mitch Conditt has had a deep interest in helping people conquer sleep apnea ever since 2009, when he became a sleep apnea patient himself. Using his high level of expertise and the latest technology, he and our team are able to provide effective treatments for individuals who are looking to improve the quality of their rest or find relief from TMJ disorder. To learn more about our practice and how we may be able to serve you, contact our office at 817-527-8500.