Meet Brandi – Fort Worth, TX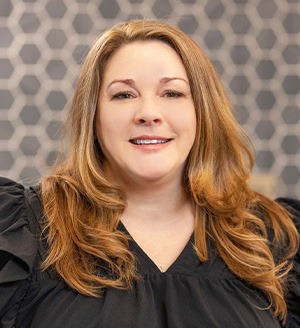 Dr. Conditt works hard to help patients achieve a good night sleep, but he can't do everything on his own. Brandi, who is the Clinical Relations Specialist at Fort Worth Snoring & Sleep Center, has a hand in many aspects of the practice. We hope that as you get to learn more about the practice or schedule your next visit, you take the time to learn a bit more about Brandi and her story of how she started working at Fort Worth Snoring & Sleep Center.
Learn About Brandi's Path to the Practice
During high school, Brandi began working as a sterilization assistant for a co-op work program. She continued working as a dental assistant off and on until she graduated college. She knew that she wanted to become a dental hygienist, which is why she would eventually go on to attend Dental Hygiene School at Tyler Junior College. There, she completed her education for her Associates in Applied Science for Dental Hygiene and graduated in 2002. After practicing in Tyler up until 2008, she moved back to Fort Worth, where she eventually met Dr. Conditt.
Brandi has been working with Dr. Conditt since 2009. Over the years, she's truly played every role in the dental office. While most of her current work includes cultivating new patient relationships in and out of the office, Brandi is also a registered dental hygienist! She enjoys the fact that she can do a little bit of everything at the practice, whether it's coordinating new patient care, providing clinical care for existing patients or assisting with emergency treatment.
Brandi feels incredibly blessed to be working alongside Dr. Conditt as he, like Brandi, has always been very passionate about continuing education. Prior to being his right hand person for his current Sleep and TMJ office, she worked as his dental hygienist for many years, then as his new patient and financial coordinator for nearly three years in his dental practice. Thanks to her expertise and credentials, she can see patients even when Dr. Conditt is out of the office. Her versatility makes her a huge asset to the practice, especially when Dr. Conditt is vacationing once a month.
My Favorite Part of Being in Clinical Relations
Like many professionals in the medical field, one of Brandi's favorite aspects of working at the practice is simply being able to help people find solutions for their pain, sleep issues, chronic snoring (both patients and their spouses), fatigue and inability to concentrate throughout the day. These issues are real, debilitating medical conditions, and finding a solution can really change her patients' lives for good. Building a relationship with her patients and getting to know them, then helping people find solutions, educating them, and helping them make an informed decision is truly what drives her in the dental field. She loves when patients compliment the way the office has changed their lives for the better.
My Life Outside of the Practice
Brandi was born and raised in Allen, Texas, but she moved to Tyler in order to pursue her dental education. Now that she has been in Fort Worth, she can't imagine a better place to live. She enjoys spending time with her parents, three brothers, two sisters-in-law, niece and nephews. She has also been very involved with the Leukemia and Lymphoma Society and attends Christ Chapel Bible Church. In her downtime, you can find her enjoying friends, reading, hanging out by the water, trying her hand at gardening and spending time outdoors.