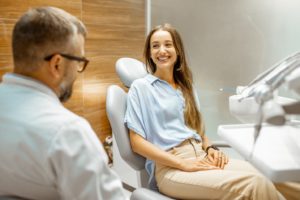 Many dentists offer oral appliance therapy, which is an effective treatment for obstructive sleep apnea (OSA). But did you know that they can also play an important role in diagnosing this condition? While they cannot provide any official diagnoses, they can be among the first to notice possible indications of OSA. Let's talk more about why a dentist may be the best person to help you get a better night's sleep.
Dentists Know Oral Anatomy
Dentists' knowledge extends far beyond the teeth and gums. They are familiar with other parts of the mouth as well, and many choose to complete extra education that familiarizes them with how the upper airway works. Therefore, they are often able to identify anatomical abnormalities that may lead to pauses in breathing throughout the night. For example, if a patient has a large tongue, jaw issues, or enlarged adenoids, they are more likely to suffer from OSA than individuals with more standard oral structures.
Dentists Have Connections
As noted at the outset of this article, dentists cannot provide an official sleep apnea diagnosis. A sleep study, whether it takes place in a sleep lab or in a patient's home, is the best way to find out for sure whether a person has OSA. The test can also reveal how severe the condition is.
Fortunately, a dentist who is accustomed to helping people cope with OSA can make the diagnostic process easy and smooth. They have a strong network of connections that can help patients get a proper diagnosis for their condition with as little stress as possible. After the sleep test, the patients can go back to the dentist to move forward with treatment. The professional camaraderie between dentists and other sleep medicine professionals ensures that patients enjoy top-quality care during every stage of their OSA journey.
The Treatment Provided by Dentists
It is important to note that not all dentists incorporate sleep apnea care into their practices. Those that do, however, put their extensive knowledge of oral anatomy to work in order to provide one of the most effective forms of OSA treatment: oral appliance therapy.
An oral appliance is a small device, which sort of looks like a mouthguard, that repositions that jaw at night in order to facilitate easier breathing. A dentist can precisely adjust the oral appliance so patients experience fast and effective relief from OSA.
Your Local Sleep Medicine Expert
Dr. Mitch Conditt worked for years as a general dentist before he shifted his focus to primarily helping patients conquer sleep apnea via oral appliance therapy. His vast knowledge of the oral structures, combined with his commitment to continually pursuing advanced sleep apnea education, makes him one of the most qualified sleep medicine professionals in our area.
Whether you have already been diagnosed with OSA or you simply suspect that you have it, Dr. Conditt and our team would be pleased to guide you as you take the next steps toward achieving a better night's rest. To learn more about us and how we may be able to serve you, contact our office at 817-527-8500.