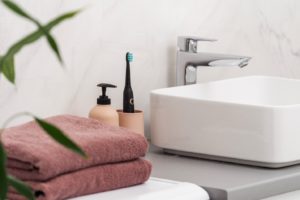 Sleep apnea sufferers who use a CPAP may need special equipment to keep their machine sanitary. Fortunately, individuals who have an oral appliance get to enjoy a much simpler cleaning routine. In this blog post, we'll discuss some easy tips for cleaning your oral appliance in Fort Worth that can keep your it fresh and functional.
Brush Your Teeth Before Using Your Appliance
Brushing your teeth every night is important, not just for your oral health, but also for maintaining a clean oral appliance. If you skip your oral hygiene routine, any bacteria and food particles that are leftover on your teeth can transfer to your appliance. Plus, all of those undesirable particles will be trapped against your teeth for the entire night, creating a moist and warm environment where bacteria can easily multiply.
Rinse Your Appliance Regularly
Even if your appliance has been safely stored in its case all day, you should still give it a quick rinse before you place it in your mouth. This will remove any dust or other particles that might have collected on it while you weren't using it.
Brush Your Appliance Each Morning
One of the first things you should do each morning is brush your teeth. Before you leave the bathroom, you should also brush your oral appliance. Use a soft-bristled brush and a clear antibacterial soap to clean all its nooks and crannies. Pay special attention to any parts of your appliance that are used for adjusting it. Some patients even purchase a small ultrasonic cleaner to help them make sure their appliance gets as clean as possible.
Make Sure Your Appliance Dries Completely
Once you finish cleaning your appliance in the morning, you can set it in its storage case — but don't close the case right away. Leaving it exposed to the air for a while will give it the chance to dry completely. If it is moist when it is put away, bacteria could easily grow and flourish on it.
Soak Your Appliance Weekly
It's a good idea to deep clean your appliance at least once a week. You can do so by leaving it in a denture-soaking solution for a few minutes. This can help to get rid of any spots of bacteria that you might have missed during your daily cleaning routine.
Follow Device-Specific Recommendations
There are several different types of oral appliances. If yours has any device-specific cleaning instructions that differ from what you see in this article, be sure to follow them rather than general recommendations.
Maintaining a clean oral appliance is simple! The tips in this article can extend the life of your device and protect your oral health.
Meet the Practice
Dr. Mitch Conditt is a dentist with decades of experience. In recent years, he has focused his career on helping patients cope with obstructive sleep apnea via oral appliance therapy. If you have questions about your options for treatment, he and our team would be pleased to assist you. Contact us at 817-527-8500.