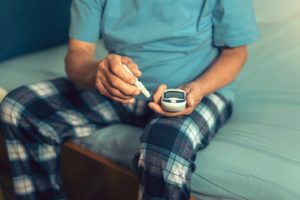 When an individual is diagnosed with prediabetes, they are usually admonished to make dietary changes in order to control their blood sugar levels. Certainly, nutrition plays a large role in whether they will eventually become diabetic. But did you know that the quality of their sleep is also important? Let's discuss research that points to a connection between prediabetes, poor quality sleep, and sleep apnea in Fort Worth.
Poor Quality Sleep and Prediabetes
A recent study conducted in the United Kingdom asked 40 prediabetic patients to take a questionnaire detailing the quality of their sleep. The researchers found that the individuals who reported poor quality sleep tended to have a higher A1c than those who slept well. (A1c is a measurement of average blood sugar levels across a period of three months.) Patients with elevated A1c levels are at the highest risk of their prediabetes developing into type 2 diabetes.
The connection between poor sleep and diabetes has been known for many years. However, this study was among the first to specifically look at the link between prediabetes the quality of patients' sleep.
Of course, it must be acknowledged that there are many possible causes of poor sleep, ranging from aches and pains to mental illness. In many cases, however, the primary culprit behind inadequate sleep quality is obstructive sleep apnea (OSA).
Improving the Quality of Your Sleep
If you have prediabetes in Fort Worth, it would certainly be worth your efforts to examine the quality of your sleep and, if necessary, take steps to improve it. Here are some practical things you can do:
Undergo a sleep test. This simple and noninvasive diagnostic procedure will reveal whether you have sleep apnea and, if so, how severe the condition is.
Seek sleep apnea treatment. If your sleep test reveals that you have obstructive sleep apnea, you may find that a custom oral appliance from a dentist is the most convenient and comfortable way to find relief.
Make lifestyle adjustments. Some habits will both benefit the quality of your sleep and help you keep your blood sugar under control. For example, exercise and dietary changes can lead to weight loss, which in turn can reduce pressure on your airway and contribute to improved nighttime breathing.
Address other causes of poor sleep. Some individuals find that purchasing a new mattress, meditating, or undergoing mental health counseling helps them to sleep better at night.
There is no cure for diabetes, so it is important for prediabetics to do everything they can to reverse their condition — including improving the quality of their sleep.
Meet the Practice
Dr. Mitch Conditt began his career as a general dentist, but in recent years, he has focused primarily on helping patients achieve better sleep through oral appliance therapy. He is a Diplomate of the American Board of Craniofacial Dental Sleep Medicine and a member of several other prestigious organizations. To learn how he may be able to help you sleep better — and perhaps control your prediabetes in the process — contact our office at 817-527-8500.