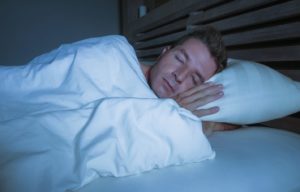 A recent recall of CPAP machines from Philips Respironics affected millions of patients. Were you among them? If so, it's understandable if you are thinking about other ways in which you may be able to address your sleep apnea. The good news is that you may be a candidate for oral appliance therapy from a sleep dentist. What is an oral appliance, and what advantages does one offer? Let's answer those important questions.
What Is an Oral Appliance?
A CPAP machine addresses sleep apnea by using pressurized air to keep a patient's airway open. An oral appliance has a similar goal, but it uses different means. Instead of forcing air down the throat, an appliance simply shifts the jaw slightly forward. It thereby prevents tissues from blocking the airway and facilitates higher-quality rest. Most oral appliances are quite small; they often resemble a mouthguard that you would wear for sports. They are generally prescribed for people with mild to moderate obstructive sleep apnea. However, some patients with severe apnea may also benefit, especially if they use combined therapy (a CPAP along with an oral appliance).
Advantages of Oral Appliance Therapy
CPAP therapy is certainly effective at treating sleep apnea, but it has its downsides. Fortunately, an oral appliance is superior in several ways, including:
Safe Materials
The Philips Respironics machines were recalled due to a foam in the machines that could break down and be inhaled by patients. The foam was meant to reduce noise and vibrations. An oral appliance is naturally silent, so no such foam is necessary. Plus, most of the appliances are made primarily out of plastic-based materials that patients tend to tolerate very well.
Convenience
If you have ever traveled with your CPAP machine, it may have been a hassle. Not only did you have to check airline regulations, but you may have also had to investigate things like the electrical setup at your destination (especially if you were traveling overseas). An oral appliance is easier to bring with you on the go. It is small enough to slip into your carry-on luggage, and it requires no electrical connection to do its job.
Easy Cleaning and Maintenance
It may take quite a bit of time to thoroughly clean a CPAP machine. You must attend to the hoses, mask, and other parts. Failure to keep up with a good cleaning routine could lead to skin irritations and systemic infections. An oral appliance is smaller, and keeping it clean is quite simple. A quick daily cleaning routine, along with periodic deeper cleaning, may be all you need to keep it safe and sanitary.
Don't let the recent CPAP recall stop you from fighting your sleep apnea! Why not consult with an expert to find out if oral appliance therapy is right for you?
Meet the Sleep Expert
Dr. Mitch Conditt began his career as a general dentist, but in recent years, he has devoted himself primarily to helping patients cope with sleep apnea via oral appliance therapy. He is a Diplomate of the American Board of Craniofacial Dental Sleep Medicine and a member of several other prestigious organizations. If you would like to learn more about him and how he may be able to help you breathe easier at night, contact our office at 817-527-8500.