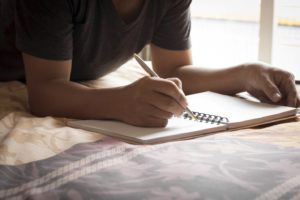 Have you been feeling tired lately? Do you find it difficult to sleep? Do you often wake up with a headache or sore throat? It is possible that you are suffering from obstructive sleep apnea (OSA). Getting an accurate diagnosis can be your first step on the road to receiving the treatment that you need to achieve more restful sleep. But how can you receive such a diagnosis? Let's talk about the role a sleep diary may play in helping your doctor determine the cause of your sleep problems.
Sleep Diaries and Sleep Apnea Diagnosis
A sleep diary is a record that tracks the quality and quantity of your sleep. It shouldn't be used as a tool for self-diagnosis because only a medical professional can determine with certainty whether you have OSA. However, it can provide your doctor with valuable information. After they review your sleep diary, they can determine whether you should undergo a sleep test that will reveal with certainty whether you have OSA and how severe your condition is. If they believe that something other than a sleep disorder is to blame for your problems, they might arrange for other types of testing.
How to Keep a Sleep Diary
A sleep diary should include information about:
When you go to bed and wake up
How you feel when you wake up
How often you wake up during the night
Any activities you engage in that could affect the quality of your sleep, such as caffeine and alcohol consumption
The number and length of any naps you take
Any other potentially relevant information
Some people choose to keep a notebook next to their bed so they can record information about their sleep. You may also be able to print out a free template that guides you through the sleep tracking process.
Of course, you could use electronic means to track your sleep instead. You may be able to find a thorough and user-friendly sleep diary app. You could even learn about the quality of your sleep from a smart watch, such as a Fit Bit, Apple Watch, Android Watch, or similar device. (Fitness trackers are not 100% accurate or comprehensive, but they can give you a generalized idea of how well you are sleeping.)
How Long Should You Keep a Sleep Diary?
Most patients track their sleep for the 1 – 2 weeks prior to their appointment with their sleep doctor. That should be enough data to reveal patterns in the quality of your rest. After you begin your treatment for OSA, you may choose to restart a sleep diary to gain insight into how well your treatment is working.
How well are you sleeping? A sleep diary can be an important first step on your path to diagnosing and conquering OSA.
Meet the Practice
Dr. Mitch Conditt has many years of experience in helping patients manage OSA with oral appliance therapy. If you suspect that you have a sleep disorder, he and our team can help you arrange for testing. To learn more about Dr. Conditt and how our practice may be able to serve you, contact us at 817-527-8500.